Exit Onion
Euell Gibbons, the Arts & Crafts Movement, and American Sign Language
Around the time of my first birthday, my mother noticed that I would pull her face into my line of sight when she would say something. She mentioned this to my doctor, and after some poking and prodding, they determined the reason: I was lip-reading because I was unable to hear.
Thus began an early childhood of communicating through made-up sign language, combined with a mishmash of American Sign Language that I picked up from kids in a special pre-Kindergarten program. I was in year-round speech therapy until I was in eighth grade, and still have to be careful to avoid slurring words when I speak too quickly.
I think about this now and again when I see someone signing on television. It feels like a conversation at a bar that you tune in and out of, hearing random snippets with clarity and then losing the thread. I can still pick up more than I expect, but am obviously missing a lifetime of learning and practice. As soon as my formal schooling began, the signing stopped.
-
This morning, I walked into my kitchen and looked at my onion plant, and thought about how I have lost touch with sign language.
This is not because my plant was speaking American Sign Language (it wasn't); but because several of the leaves had folded over in the night, and the base was beginning to brown, and something has gone very wrong with this little experiment.
I cannot ask the plant what is wrong. Or rather, I can - and it will not tell me. I must engage instead in touch-and-go guesswork and the race against time is not in my favor. One of the many chastisements this pandemic brings is the fact that I have lost touch with the things of the Earth; with onion plants, brown trout, limestone, and with whatever else may be out in nature besides onion plants, brown trout, and limestone. (I hear there is a moose somewhere in the mix.)
At this time of "prepper" fanaticism, they do at least have a point. While my ability to identify and consume plants in the wild is surely above average given my former time in the outdoors, I am lousy at cultivating the things. The moment I realized this, I went to my bookshelf and picked up my well-worn copy of Euell Gibbons' Stalking the Wild Asparagus.
My Lord. What would Mr. Gibbons think of us all now?
-
I imagine most of my readers won't know who Euell Gibbons is, so I will explain.
He was an American man who was born in 1911; spent much of his youth foraging for food because of his family's homesteading lifestyle; lived as a hobo during the Dust Bowl and Depression; wrote Communist pamphlets in the 1930's until renouncing the philosophy when Russia invaded Poland; and became a Quaker thereafter.
In 1962, he published his first book, Stalking the Wild Asparagus, and it became quite the sensation. If you look him up on YouTube, you will find a series of commercials he did for Grape-Nuts cereal, as well as spoofs of him on TV shows of the era.
Here he is, looking like a man who did precisely everything I described above.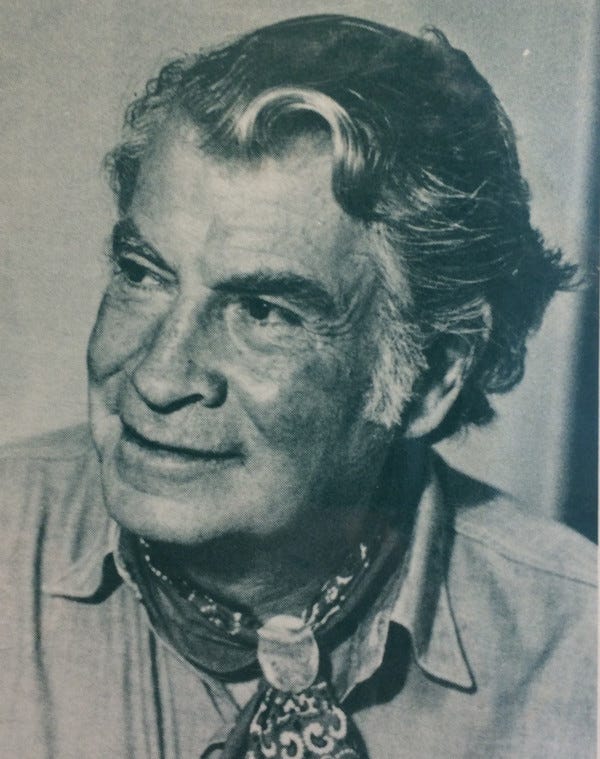 LINK: Grape-Nuts Commercial with Euell Gibbons
The last chapter of the book describes a holiday he and his wife took with another couple in Central Pennsylvania. They lived in a friend's cabin for a week, and successfully foraged so much food that they made a profit on their isolation, given how much they were able to bring back for future consumption.
I guess there is some crossover there to our current predicament, given how many friends I know who are saving money by not being able to spend it in bars and restaurants.
Mr. Gibbons was fond of asking people the question, "Ever eat a pine tree?" For me, the answer is no, but this site has a break down of how to go about it.
-
All of this was slipping off the minds of people just over a century ago, as it turns out. Not the part about eating pine trees; the part about getting back to basics.
The year 1920 is generally regarded as the end of the Arts & Crafts movement, an anti-industrial trend in craftsmanship that sought to use traditional methods, with a focus on artisan production and quality. I don't need to tell anyone whether the pendulum swung back towards mass-production in the hundred years that followed.
C'est la vie. Life is fleeting. Just ask Elbert Hubbard, one of the leading proponents of the Arts & Crafts movement.
I did a quick poll of my friends, and precisely none of them have heard of Mr. Hubbard, which should be a grim reminder on the fleeting nature of prominence. After he and his wife died on the Lusitania sinking, a 360-page book was published in his memory, with contributors including Booker T. Washington, Nobel laureat Elihu Root, poets such as James Whitcomb Riley and Ella Wheeler Wilcox, and business magnates including Henry Heinz, W. Atlee Burpee, and J. Ogden Armour.
In other words, he got around, despite being a self-described Anarchist who once declared, "I believe John Ruskin, William Morris, Henry Thoreau, Walt Whitman and Leo Tolstoy to be Prophets of God, and they should rank in mental reach and spiritual insight with Elijah, Hosea, Ezekiel and Isaiah."
Imagine getting all of these people in the room today, in today's political environment; saying something like that; and having everyone toast to your health thereafter.
What a time to be alive.
-
Like Mr. Gibbons, our friend Mr. Hubbard was extremely quotable, and some of the things he said live on past their attribution. A quick stroll through Wikiquotes turns up no shortage of gems, any of which has a future life as a post on the Facebook wall of someone you have not seen in twenty years. His aphorisms are strangely familiar to our modern woes.
To wit (literally):
Every man should have a college education in order to show him how little the thing is worth.

Never explain - your friends do not need it and your enemies will not believe you anyhow.

A man who says a thing cannot be done is quite apt to be interrupted by some idiot doing it.

The graveyards are full of people the world could not do without.

Good people are only half as good, and bad people are only half as bad, as other people regard them.
-
And, most famously:
Do not take life too seriously - you will never get out of it alive.
My apologies, Mr. Onion. If it is any consolation, things aren't going so well for the rest of us right now, either.
-
If you enjoy my free newsletter and are interested in my other work, consider making a small donation via my Patreon page. Patrons are eligible to receive special prizes, monthly art give-aways, and other fun nonsense. Thank you!