Give Me Your Applause
The Matrix Had It Backwards
Anyone who has seen The Matrix will remember the scene.
Neo takes the red pill and emerges from his lifelong dream into a rather unpleasant reality: he has spent his entire existence suspended in goo, with all manner of hoses connected to him, and everything he knows has been a simulation.
He will go on to lead the fight against this simulation, and this will result in all manner of people having extravagant fights and occasionally jumping into one another's bodies and making computer code fly around the screen.
But this is nonsense.
The Matrix has it backwards.
People aren't fighting to get out of a simulation; they are fighting to get into one. Someone should have told the robot overlords in the film that they went to far too much trouble. All they needed to do, to dominate our species, was sell tickets and perhaps hire an Influencer or two.
I doubt I am the first person to point this out. But it does come to mind when I try and watch television, or go to live performances (remember those, etc., etc.) because we, as a society, have regressed to the point where it is impossible for almost anyone to do anything without there needing to be an applause break. And this is one of the many reasons why I think we are letting our country slip further down the proverbial tubes.
And rather than simply moan about it, let me walk you through my reasoning, such as it is.
The Sound of Silence
I don't care if you don't enjoy professional wrestling. I know it's fake. Take five minutes anyway and watch this WWE match (formerly WWF) filmed during the pandemic.
Watch the opening. Watch the action, once the music dies down. Listen to what everyone is saying.
It is ridiculous. It is fascinating. It is like watching a rehearsal. There is such a need for noise that one of the commentators actually gets up and plays a guitar to cause a distraction. Because, of course he does.
For the better or the worse, the crowd - as a collaborator - is fundamental. The experience has transcended the sport, as it were. And while this is not limited to wrestling - you can find videos online of traditional sports without spectators - I am focusing on wrestling because it bills itself directly as entertainment. It may be entertaining the folks at home, but it cannot provide the same product without the manic crowd cheering it on. It is truly a different experience.
We are getting a lot of this, aren't we? The pandemic is providing us with a rich, weird, specific, and loony set of data that will be analyzed for decades to come. But even a casual viewer can learn much by watching how their favorite shows have adapted. "Late Night" shows have taken all manner of routes to deal with this situation, and they too feel different without their applause.
After all, applause and cheering are a not insignificant part of these programs. Case in point, watch this clip from the time that Harry Styles (who I am a fan of) took over the show for James Corden (who I am a fan of). I sat with a stopwatch, and determined that - of the first 7 minutes and 10 seconds of the clip - three minutes is applause, cheering, and hype music. Literally half of this clip is content that does not serve any purpose, except perhaps to feed Harry's love of applause (I am not sure he minds this.)
This is not unique to his appearance. We know that TV fills for time.
Earlier this year, the site 538 published an updated version of calculations most of us have seen here or there, about just how much actual content is in an NFL game. Their conclusions?
"An average NFL broadcast lasts well over three hours, yet it delivers a total of only 18 minutes of football action." Likewise, there would be 50 minutes of commercial breaks. In fact, their analysis of how the game actually goes is brutal.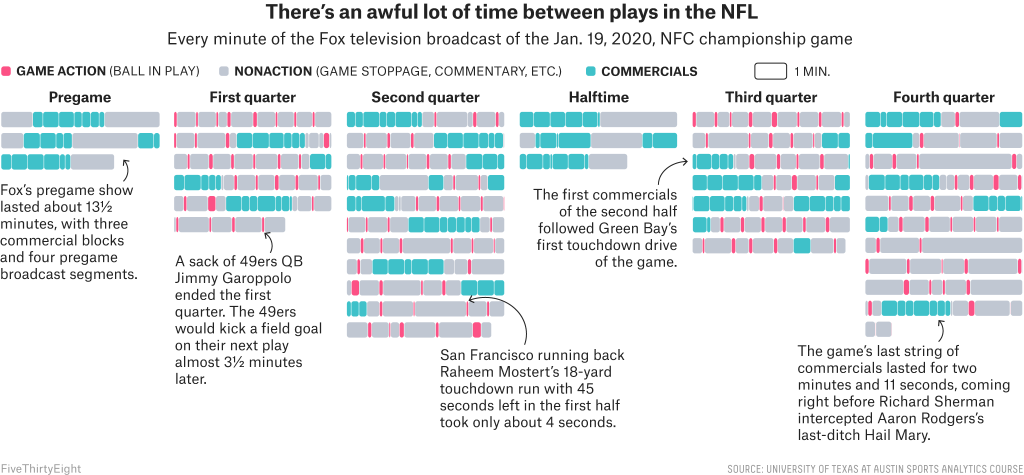 The most brutal part? They calculate that the average MLB game has more action in it than the average NFL game, and MLB games have become a study in watching guys watching grass grow. Commercial breaks feel more like mercies than irritants. And commercial breaks are ever-more frequent.
The Era of Interruptions
But this all makes sense in this, the Era of Interruptions.
Interruptions pick away at everything we are and do. We know that they have been destroying workplace productivity; multiple studies have held that, once interrupted, it takes a person an average of 23 minutes to return to their original task, at the mental level they held prior to the interruption. That is staggering, when you consider that they could cost you six hours of an eight-hour work day.
And now, check out these numbers from some pointless online aggregator:
The average US adult spends 38 minutes/day on Facebook

The average internet user spends more than 2 hours/day on social media

The average adult alive right now is expected to spend a total of nearly 7 years of their life on social media.
Staggering. If you live to be seventy, you will spend a day a week on social media, in a constant, dazzling state of giving your opinion, checking in on other people, and being distracted at a dizzying pace.
You have to wonder, how many people alive today - who have had their lives crippled by society's near-total uninterest in autism as anything but a 'disability' - would have been running things two-hundred years ago, before we filled every single restaurant with televisions; before we blasted music out every window and storefront; and before we crammed the world into rectangles we carry in our pockets and stare at for hours every day.
No wonder we are over-stimulated. We carry Times Square in our pockets and spend hours a day staring at it.
When life consisted of repeating the same tasks every day, with absolute mastery, a so-called 'normal' person like me would have been a useless git. And someone who could get the plowing done in silence, and execute the mundane duties of the farm - while using their brilliant logic and creativity to solve practical problems - would have had to sit and wonder what the heck was wrong with me. We have become obsessed with an approach to human intelligence that presumes all this havoc we are wreaking is normal. We have fundamentally let technology compromise how we see and evaluate talent in other human beings, and the machines just had to sit there and exist. They did not have to invest in any piles of goo at all. It really was just that easy.
Of course, there is some hope. People are beginning to wake up to the huge potential that people of all types bring to life. Friends of mine, like Lynne of AwesomismMom, have been fighting tirelessly to try and change the mindset we use when we think about autistic people. Likewise, this recent pandemic has woken some folks up to the very real toll that people with mental health conditions face during their everyday lives (not only when a plague comes.) Maybe we will escape the piles of goo after all.
And yet…
All This Stupid Cheering
Let me get back to being a misanthrope. All this stupid applause and cheering has altered the way in which people interact with things, and has shortened our attention spans so completely that folks have seemingly lost the ability to have a sophisticated, drawn-out, emotional journey.
You take the trouble of going to see the Conan O'Brien show when Robert De Niro is the star. You give Robert a long bout of applause when he comes out. As soon as you settle down, Conan thanks him for coming on the show and says what a big fan he is, and everyone applauds again. It settles down, and Conan and Robert begin to speak. The moment either of them mentions The Godfather, everyone applauds and cheers. The moment Robert mentions his new movie, and his popular co-star, everyone applauds and cheers.
You are a fan of Conan and Robert, and you spent half your time in person with them listening to people you've never heard of slap their hands against one another. Tell me, what sort of plan is that?
Likewise, I will never forget the time - it seems a lifetime ago now - when I saw the Broadway production of Long Day's Journey into Night, starring Brian Dennehy, Vanessa Redgrave, Philip Seymour-Hoffman and Robert Sean Leonard. It was stunning, and in the final act, the audience sat silently and let the actors build up the emotion until -
The crowd let out a huge, exasperated gasp of irritation. The moment was ruined. Thank God, the Nokia ringtone has since been sent to Hell from which it came; at that time, I would have voted for the phone's owner to follow it. Sadly, every theater experience I have had since that one, has been cursed with at least one person gratuitously using their phone at the expense of the moment. And I am not somehow cursed, either.
Lord Almighty. Just take a moment to read about some of the things people do with cell phones now at shows. (Or rather, did, before we all died of the plague.) You will see it everywhere now - events, museums, and - of course - protests - the one place where it makes sense, and for too long, was not occurring.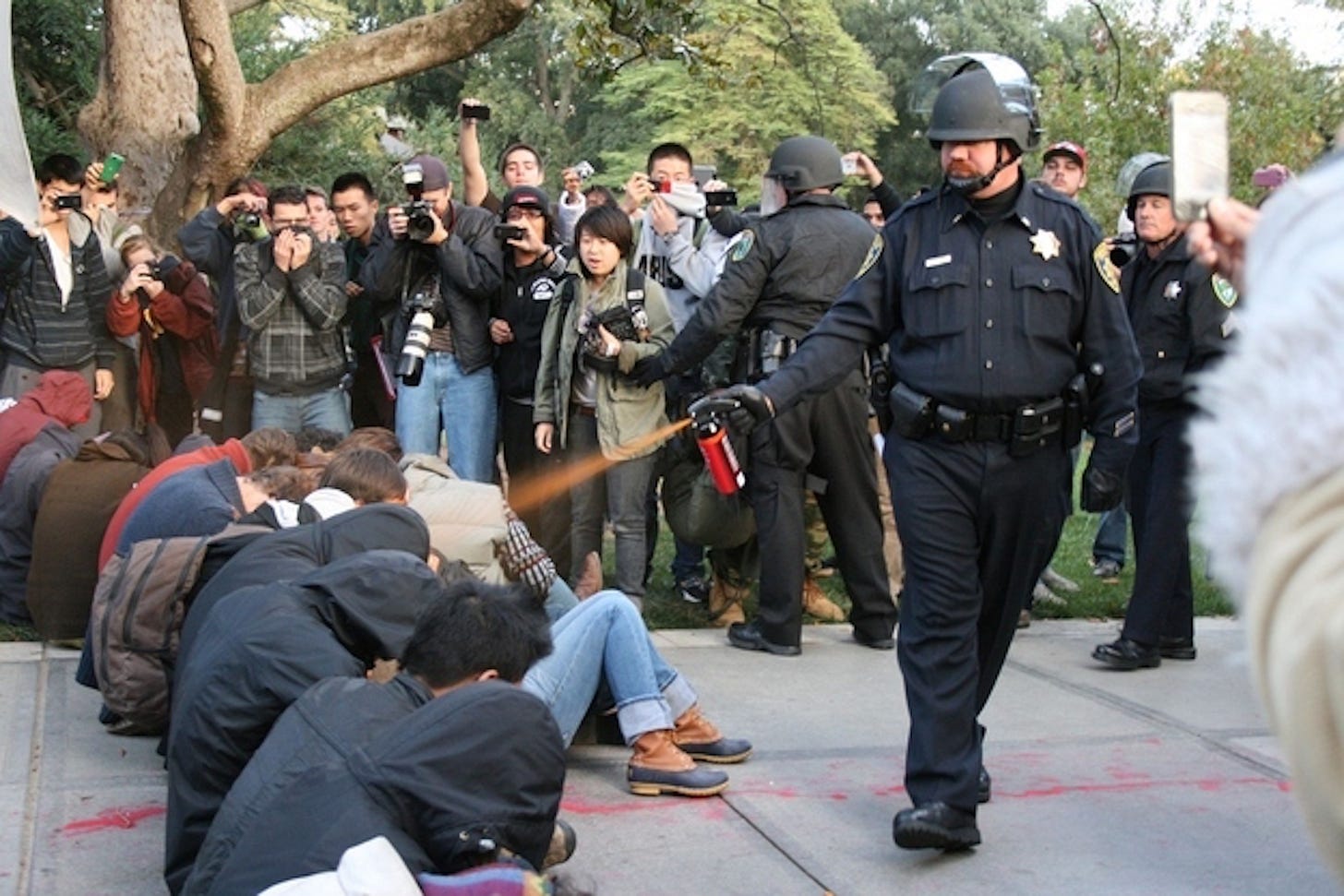 Speaking of protests, remember this?
On November 18, 2011, Lt. John Pike pepper-sprayed protesters at an Occupy movement at UC Davis in Davis, California. The photograph immediately went viral, and what I noted at the time has stayed with me. It is one of the first truly viral photographs I have seen, in which virtually all subjects are holding cameras/phone cameras. This is not the iconic Iwo-Jima flag photo, of which we have precisely one angle; a hundred variations of this photo exist, as well as videos from which individual frames may be pulled. It is an undeniably historic event during which most participants took the primary role of documentation.
And, if you search out, you can find those other angles, and get that most rare (at the time) phenomenon: a photograph of a photographer taking an iconic photograph.
Of course now, at a protest, march, or meeting, you see everyone with their mobile phones up. Recording the same images in slightly different angles. Putting it out on social media. Documenting, in a way we never could. And yet, it is probable that many folks who are documenting are - at the same time - compromised in their attention somewhat. But it looks like that has been building for a while.
Validation and Purpose
There are a zillion studies and articles about how we use social media for validation, and how we believe we must document an experience in order to be experiencing it. All this cheering and applause is part and parcel to it, if you ask me.
It is no longer enough to say that you saw Daniel Radcliffe on Broadway; if you do not personally record and share it, it falls into the abyss. Likewise, if you do not cheer and clap, you must not be having fun, because cheering and clapping is fun and exciting, and you came to the Conan O'Brien show to have fun and be excited.
There is a Japanese concept called Ikigai, about which I know barely anything. It is one's "reason for being" - the direction and purpose of one's life. It can be summed up like this, apparently: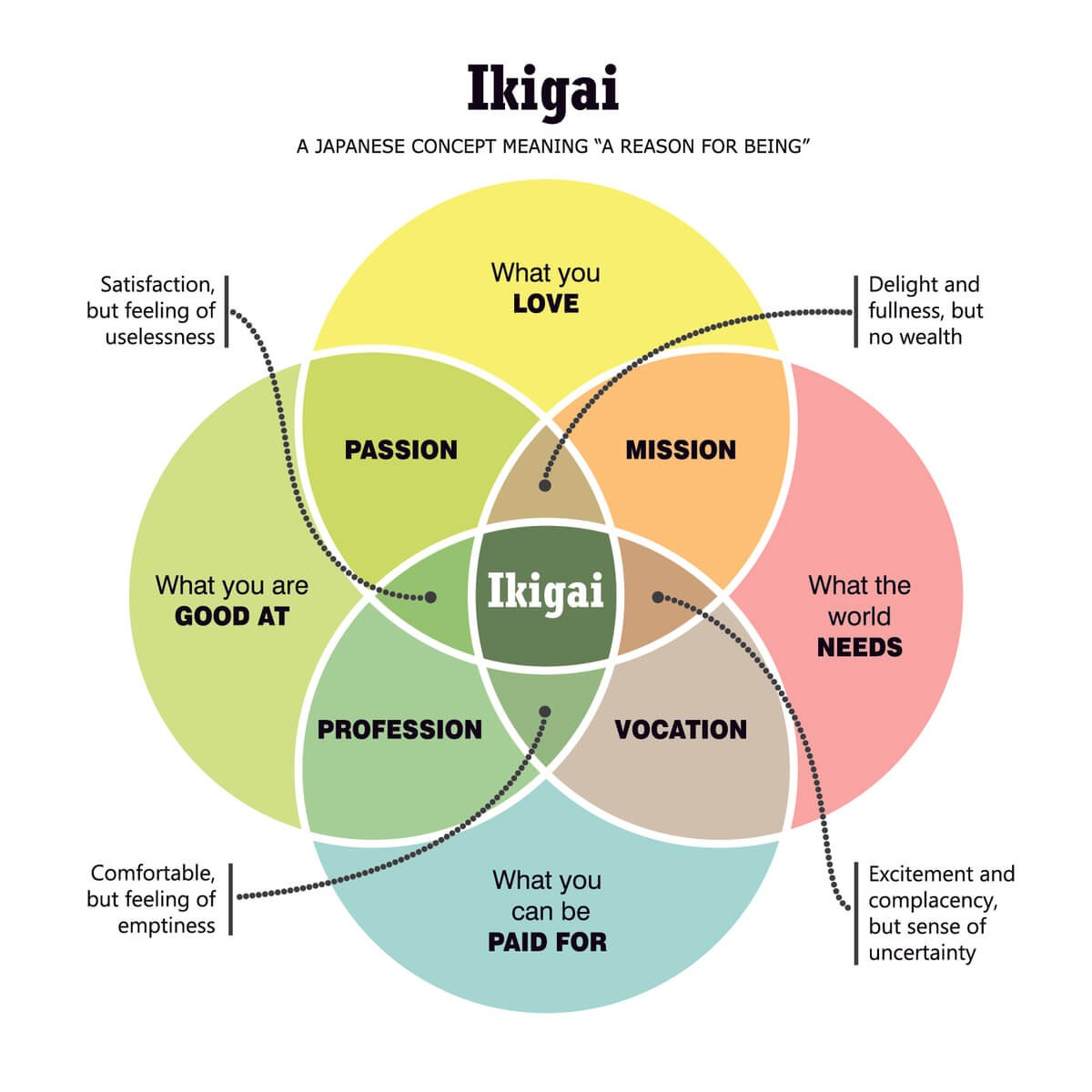 I have been thinking about this lately. A lot.
Do me a favor and study it, and tell me where social media fits in. Or where applauding like a trained seal, instead of listening to people you admire. If you ask me, the only place for it is "Comfortable, but feeling of emptiness." An emptiness that we try and fill with noise, and forced expressions to tell us we are happy and having fun.
At least Neo got a free Jell-o bath. I'm not making a nickel on it, myself. And I'm sure as hell not cheering about it.