How to Make a Pineapple Upside-Down Cake
Nick Raynor, the World's Longest Film, and Some Very Ugly Food
I made a pineapple upside-down cake a few nights ago.
It was delicious, especially once the flavors developed in the fridge overnight. My neighbors across the hall provided independent verification on this, and - in the words of Monty Python - there was much rejoicing.
In the spirit of Internet sharing, I will tell you how I did it. I'm helpful like that.
—
First things first. Befriend extremely talented actor/dancer Nick Raynor, who most recently starred in the off-Broadway smash Fiddler on the Roof in Yiddish. Here is Nick leaping into the air off of a table, in Yiddish.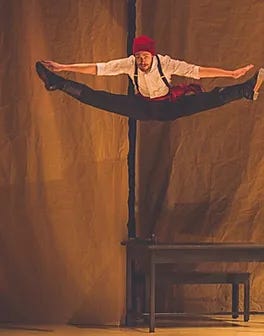 If you do not befriend Nick, you may not make pineapple upside-down cake.
But once you do befriend him, you must shoot a portrait of him smoking an oversized novelty cigar under a red cardinal mask, and have it appear in shows in galleries in the US and Europe. Once this step is complete, you must hang the portrait on the wall of your kitchen.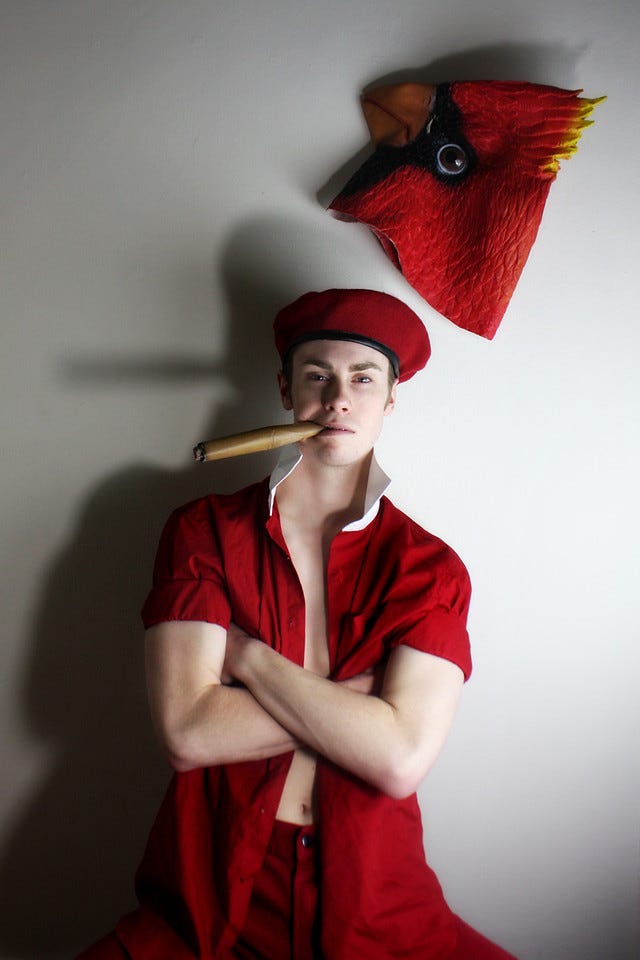 Once you have done this, you may now proceed to the rest of the recipe, which is:
Melt 4 tablespoons of unsalted butter and mix in a cup of light brown sugar.

Spray the bottom of a crock pot with no-stick oil.

Once you mix the butter and brown sugar, it should form a pleasingly frustrating goop that is nearly as difficult to spread as accurate information about COVID-19. Despite this, you must spread it evenly along the bottom of the pot and - if you are feeling saucy - slightly up the sides, for about a half-inch.

Open a can of sliced pineapples, and lay the slices in the coating, until the bottom is lined. Make sure to accomplish this by tearing slices into fiddlybits so that they best fit the shape of your crock pot.

Lay in maraschino cherries to fill any spaces where the pineapple ain't.
—
That isn't the whole recipe. But we're stopping here for a moment to talk about Liver Sausage Pineapple, shown below. It is proof that everyone used to be out of their minds.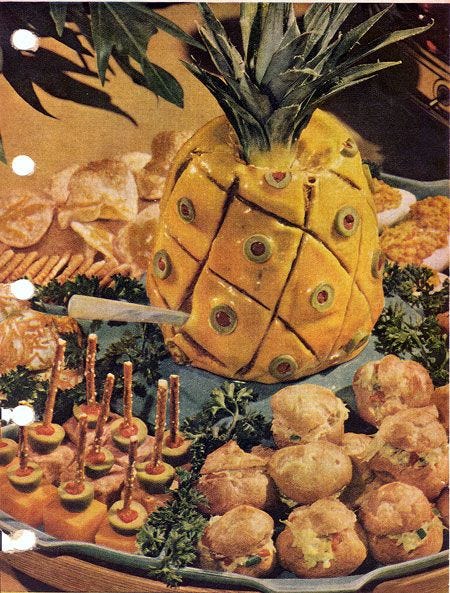 It is from that magical period of (approx.) 1950-1970, when the worst taste in food ever was documented via photography and recipe cards.
You can spend all day looking at this stuff - made all the more unpalatable by the washed-out color scheme that printing technology of the time afforded. Here are some other fun examples.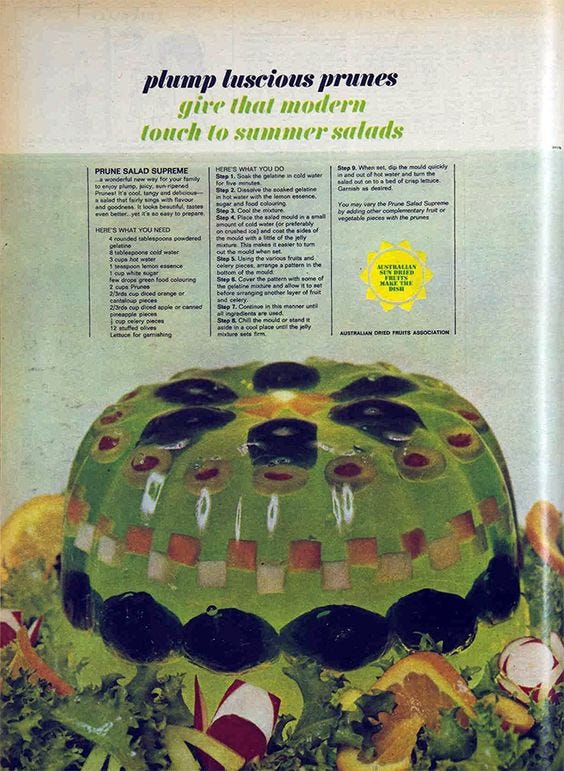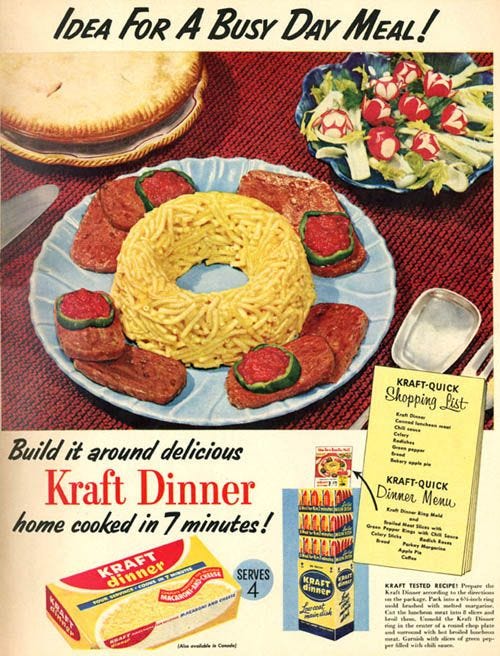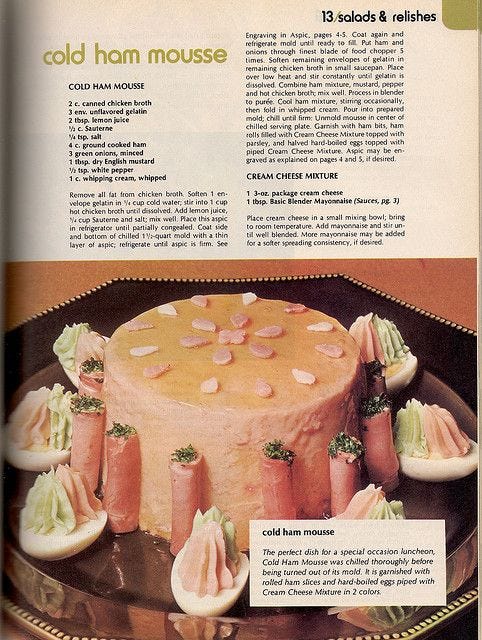 What a treat it is to live in modern times. We are able to discuss 'options' for beating COVID, and we are able to have progressed in culinary terms past these abominations. Things are not perfect, but they could always be worse.
So much worse.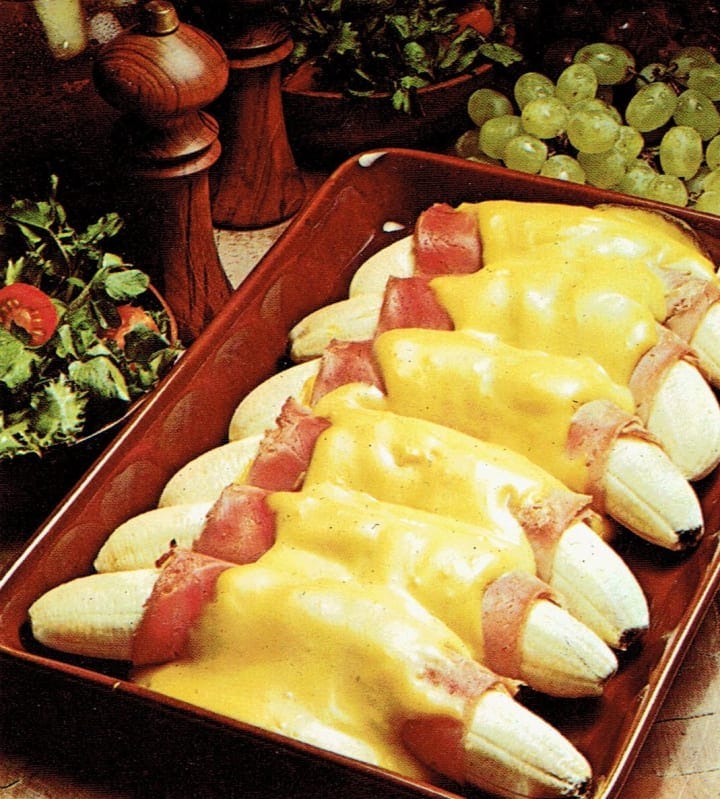 So, so, so very much worse.
You can dive into the horrors of old food here, here, and here. You can even review a more scholarly case study of why the food looks bad. It reminds me that everyone should read the Stephen Pinker book, The Better Angels of Our Nature: Why Violence Has Declined.
Despite the horror, we are actually enjoying one of the most peaceful times in the history of humankind - and we have the opportunity to continue pushing for it. More peace, and less cold ham mousse. That's a bargain anyone should be able to get behind.
—
Anyhoo.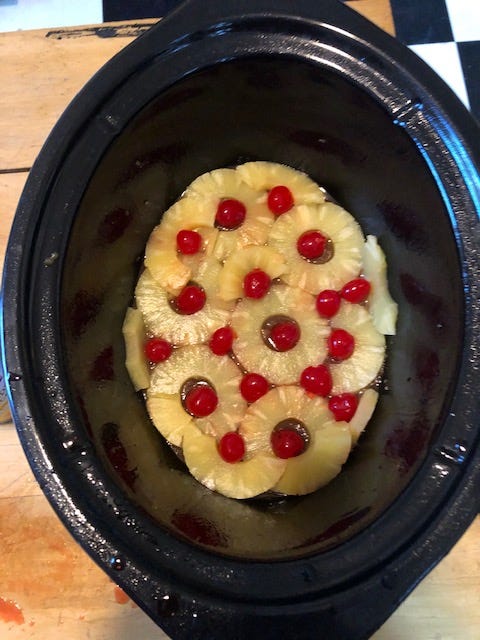 The next step is to mix yellow cake batter. I did it using one of those boxes from the store. I don't know if it was Betty Crocker, but I will just assume it was. I followed the instructions, except that I replaced the water component with pineapple juice from the can. Huzzah.
Set the crock pot for two hours (high), and find something to occupy yourself.
—
We've seen these before, but this montage of Noah Kalina - who has taken a photo of himself every day for twenty years and counting - is especially touching. Twenty years is more than 7,000 days, so the video goes on for more than eight minutes. I think the grim specter of time passing indoors, in front of a screen (or lens) is poignant indeed, given our current situation.
Speaking of which, I once read about a study that showed how to make time pass faster or slower on a neurological level. I have no idea where this research is these days, but I found it intriguing.
Of course, two hours is not a lot of time these days. You could spend it watching a conventional-length Hollywood film, as most of them still do not cross the 2-hour mark. But instead, consider this activity: watching the world's longest movie teaser, which clocks in at 72 minutes. For the teaser.
It seems that Swedish artist Anders Weberg decided to end his 20+ year work in the moving image with a bang. On Decmeber 31, 2020, the plan is for his film Ambiencé to be screened globally, on every continent - once. The movie is 720 hours long (30 days), and the sole copy will be destroyed at the conclusion, making it the "longest film made that doesn't exist."
The 72-minute teaser was soon topped by a 7+ hour trailer, available for viewing via his website.
I am not sure of the current status of this project. It missed its 2018 benchmark for a 72-hour trailer; has not had news updates on its site in two years; and some of the artist's personal web presences appear to be offline.
I guess we will find out this December if all is well.
—
Two hours pass, and it is time to cool my pineapple upside-down cake. I put the ceramic crock pot tray on a cooling rack, and decide that in thirty minutes, I will flip the cake over onto a-
Fiddlesticks. I have no tray large or sturdy enough to accommodate my pineapple upside-down cake.
I poke about my kitchen. I poke about my apartment. I wander here and there in mounting gloom, sure that I am justly slain.
And then I look up at the wall, and am reminded that I took the trouble to befriend Nick Raynor, and to photograph him, and to have his 16" x 20" framed portrait ready for standby.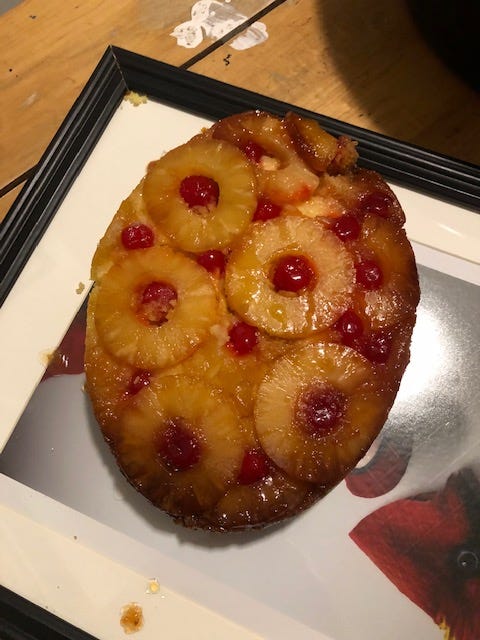 To quote my high school biology teacher, Mrs. Maak: I love it when things work.
It was a delicious cake, and I am glad to have had it in my life, however temporarily. I thank it for existing, and also for yielding me a photo or two that may yet be framed and go on a wall somewhere, so that someone else may make pineapple upside-down cake.
So much about the future is uncertain. I am glad that this problem, at the very least, has been solved.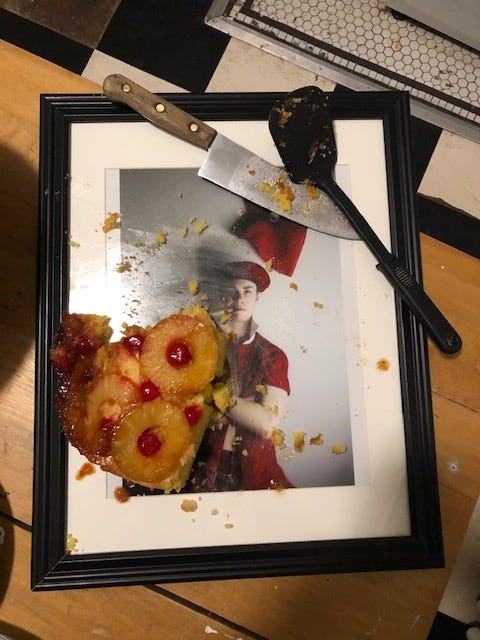 If you enjoy my free newsletter and are interested in my other work, consider making a small donation via my Patreon page. You can also arrange to buy a print, so that you too may make pineapple upside-down cake. Thank you!