The People's X
Sooner or later, it all comes back to beer.
A lot of my friends have been asking me for book recommendations in light of the past month's extraordinary events. I keep telling them that there are plenty of recommendations online from people with a lot more insight than myself, and occasionally I will send them a list. Half of the time they end up buying Howard Zinn's A People's History of the United States and not anything by a Black person.
What I think of this book is immaterial for the purposes of this essay. I would rather focus, for a moment, on its use of the phrase "The People's". We run into this phrase a lot, and it is often wielded by folks who are trying to give a mandate to whatever action or belief system they are undertaking.
Lord knows, this is not a new phenomenon. You can find examples of such invocations back throughout history, and I am sure someone has suitably traced and explained them far better than myself. For those who don't want to do the leg work, you can also just go to YouTube and watch compilation videos of the professional wrestler "The Rock" doing his finishing move "the People's Elbow", which apparently started as a joke to try and make "The Undertaker" break character.
Who knew?
—
For our purposes today, it is sufficient to say that the phrase is usually used now in the same tone that Barton W. Johnson used it when, in the 1890's, he published The People's New Testament with Notes and famously begins his preface with this statement:
This work has been prepared, not especially for the learned and critical class, but for the people.
So if nothing else, we can establish that the People are unlearned and uncritical. This may be why they are so hard to figure out, let alone please. After all, some of the folks protesting in this country right now are the same folks who watch television, and if TV watching habits are any indication, what the people really want is to watch television shows about people with pensions and/or high-paying jobs. (I guess TV really is escapism.)
The Nielsen ratings for the past year came out a couple of weeks ago, and there is an interesting trend that I think bears a lot of contemplation. Here is how the theme/subjects of the top 25 shows breaks down:
Federal agencies/special teams: 7
Cops: 6
Doctors: 4
Fire department: 2
Courtroom drama: 2 (and one of them is about a doctor)
Magnum PI, who used to be in a federal special team but is now private: 1
Shows not about law enforcement, federal emergency response teams, doctors, or lawyers: 3
Extraordinary.
—
Lord knows, nearly every modern regime that went on to commit appalling human rights violations wrapped itself in the mantle of 'the people'. A lot of these details get conveniently lost in history - even short-term, modern history. For example, I only know two people that I was sure drive a Volkswagen, and when I reached out, it turned out that neither of them were aware that the "people's car" was a creation of the Nazis.
They were really pleased with me for sharing this information.
So it goes. At least I know that I can buy their peaceful demeanor back for the dirt-cheap price of a couple of beers. After all, beer is the staple drink of the 'everyday Joe/Jane' in our modern society. Hollywood knows this, and so does theater. If you want to make someone familiar, have them come back from a lousy day at a lousy job, sit down on their lousy couch, and crack open an ice cold beer. (My Lord, doesn't Obama's 'Beer Summit' seem quaint now? A far cry from violently teargassing protesters so you can hold up a book you do not read.)
Incidentally, I find it interesting that you can always scale alcohol up, but you cannot scale it down. A tired but common writer's trick to show everyday characters having a good time or moving up in the world is to give them champagne in a hot tub on a roof deck in Las Vegas. By contrast, if the Downton Abbey dinner table has a six-pack of Schlitz placed on it, you can bet that it will lead to a ten-episode arc and at least three characters will die.
Anyway, all of this was on my mind recently when I was reading (as one does) The Duluth Herald newspaper from Saturday, October 22, 1910.
I had really been looking for the Gossip from the Rialto column, and found it, only to notice rather immediately a casual note that The Clansman would be playing on stage. For those not familiar, this is the play adapted from Thomas Dixon Jr.'s novel The Clansman: A Historical Romance of the Ku Klux Klan, and is one of the forces that led to the revival of the appalling organization it shares its name with.
Not three inches away from this notice was something very interesting: an advertisement for "People's Beer", the copy reproduced thusly: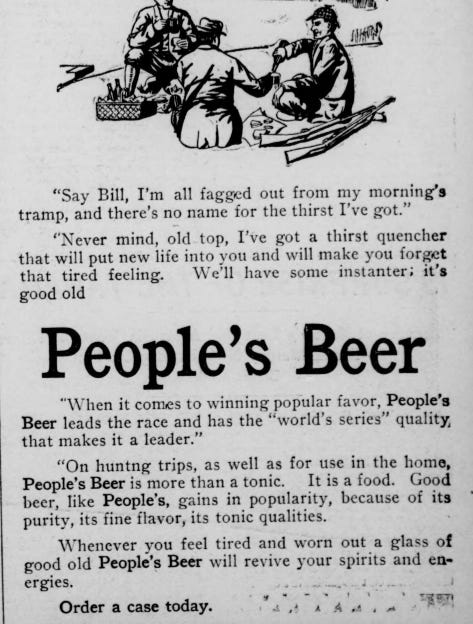 This is fascinating to me, because in 1970, the Peoples Brewery in Oshkosh, Wisconsin - in business since the early 1900's - became the first black-owned brewery in the United States. A gentleman named Teddy Mack, Sr., bought the company and gave it quite a go.
Given that there are parts of this country that seem ready to mount an updated production of The Clansman, it may not surprise you to learn that it took all of two years for the brewery to close, with plenty of help from the unhappy locals.
For those who want a more complete picture, consider checking out this website by Clint Lanier dedicated specifically to the history of the brewery, and the issues it encountered. You can also read more perspectives on the demise of the brewery here and here. You can even buy a vintage t-shirt with their logo here. Likewise, vintage buttons, pins, and other merchandise are found online.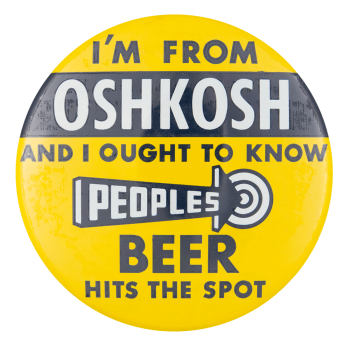 —
Apart from providing yet another example of an enterprising Black-owned company that met with hostility from white neighbors and media, this is all interesting because I had a beer from the People's Brewery not all that long ago. I can't say for certain how far back this was, but it was certainly after the early 1970's.
It turns out that a new, unrelated firm called The People's Brewing Company was started in Indiana in 2009. They have a beer named after the late Teddy Mack, to honor his efforts at the original People's Beer company, but there are no other associations. I suppose it was inevitable that the name would pop up again - it is too good to waste. (In fact, now that I think about it, I am stunned that Pabst has not tried to bring back their 'Red, White, and Blue' brand beer in the last few years.)
Of course, one beer tried to shortcut all the issues with names, advertising, marketing, etc. I speak of course of the short-lived, but very direct, (also Pabst) brand that was literally called 'Generic Beer' and came in a can that looked like this: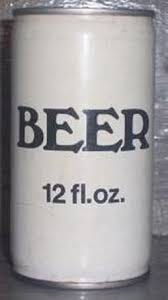 Talk about going back to basics; maybe this is truly the beer of our time. After all, I think a lot of folks have realized in the last few months (between the pandemic and the politics) that the fundamentals of their lives may require remembering and reevaluation.) We have to free up mental real estate to deal with these problems, and it has to come from somewhere. Perhaps an easy place to start is killing off the modern plague of going into a gastropub (when we are allowed to again) and seeing a menu like this:
Sgt. Pepper's Lonely Hearts Club Raspberry Hops Beer (6.75%)

Call Me Ishmael But Not To My Face Stout (5.45%)

Lieutenant Ding-Dong Pollywogs Flingabiddle ZigZag Matchless Keg-Thievery Acroplastic Semigorgon Nitwit Flyspeck Broken Paper Hibble-Hobble Throat Goblet Ways & Means Silly Putty Bognog Smoked Whisper Utterly Haunted Micro-Electric Tentacle Spectacle Illuminati Anti-Bird Harsh Reality Spoonless Gut-Wrenching Fabulomystic Nine-Muses Uphill Backwards Tombstone-Speckled Old Man Winter Shishka-bibble Plague Doctor Secret Key Wobbly Tobbly Doodad Ale (4.45%)
And replacing it with this:
God, I miss McSorley's. Three guesses who brews their beer.